Detroit Red Wings: Flashback Friday Vladimir Konstantinov
Detroit Red Wings: Four Players Expected to Compete for One Job by Bob Heyrman
The Detroit Red Wings selected Vladimir Konstantinov with the 221st pick in the 11th round of the 1989 NHL Entry Level Draft.  The eleventh round pick would quickly be nicknamed "Vladinator" with his exceptional physical style of play.
The Detroit Red Wings obtained another absolute late round steal as they often did in the late 80's up until the late 90's.  Vladimir Konstantinov would line players up and deliver an extraordinary hit when the proper opportunity arose.  In his first season (91/92) with Detroit after defecting from the Soviet Union, he was 24 years of age.
Konstantinov a member of the "Russian Five" as they liked to call themselves became a force to reckon with throughout the 1990's in Hockeytown.  Opponents found themselves a little leary to rush into a corner once they saw the red and white number 16 there.
Vladdie known for being more of a defensive defenseman, did put up some points throughout his 6 year Detroit Red Wings career.  In his NHL rookie season, Vladdie posted 8 goals and 34 points and was a plus 25.  In all six seasons, Vladdie was always a plus player.
In 1995/96 Konstantinov finished with a phenomenal plus 60 rating, which granted him the plus/minus trophy,  leading the league in that category.  To go with that, Konstantinov would play 81 games and record 14 goals along with 20 helpers for 34 points.
More from Octopus Thrower
He would finish 4th that season, behind Chris Chelios, Ray Bourque, Brian Leetch in the James Norris Trophy voting, which is awarded to the best defender in the league each season.  Chelios edged, and we use the word edged loosely, Bourque out for the trophy, winning by less than 1% of the total vote.
The following season 96/97 would end up being Vladdie's final season; he finished second in the Norris Trophy vote behind the "almost" unanimous winner Brian Leetch.  That last season would statistically be Vladdie's best, his stat line would read; 77GP 5G 33A 38P and a plus 38.
Konstantinov would find himself often paired with countrymen, Viacheslav Fetisov.  Konstantinov was shaping up to be paired with the great Nicklas Lidstrom for many years to come. Unfortunately, it wouldn't go on to happen.
A career cut much too short just six days after winning the Stanley Cup in the summer of 1997.  It's one of those unfortunate circumstances in life, where you remember exactly where you were upon receiving the news.
For me personally, I remember it being on the front page of the local paper, as I stood in my parents' kitchen looking upon a photo of a limo that was just destroyed.  I feel the same knot now in my stomach writing it as I felt 21 summer's ago.  The white limousine's front end mangled, as it rested up against a tree. It's incredible 4 occupants of the limo survived.
Vladimir Konstantinov, Slava Fetisov were the two players involved, Fetisov didn't suffer any life-threatening injuries as Vladdie and trainer Sergei Mnatsakanov were left clinging to life.  The driver Richard Gnida, who'd been drinking was like Fetisov, considered "stable."
Mnatsakanov & Konstantinov would both suffer severe brain injuries that would leave them each in a long-lasting state of a comma.
Shawn Windsor of The Detroit Free Press had a very in-depth article on the anniversary of the accident, with the memories from Dr. James Robbins who worked first hand on saving the victims.  The report suggests Detroit Red Wings owner Mike Ilitch was one of the first to arrive at the hospital.
Remember that scene of Mr.I rushing away from the press to jogging pace, with a much-concerned look on his face, through the double doors of the hospital.
The article also explains how Mr.I was flying different surgeons in from all over the country to assist and provide an opinion.  They all would come to the same conclusion, the playing days of Vladimir Konstantinov would be over.
What a fantastic owner Mr.I was, the man was a beautiful human being and meant very much to his employees, players and the city of Detroit.
Ansar Khan of Mlive.com wrote a piece on this subject in 2012 with some player recollections;
"You're on top of the hockey world, you're Stanley Cup champion, then the accident happened," former Red Wings forward Kris Draper said. "It literally rocked our world. As excited as we were to win the Cup, it put everything in perspective, just how valuable life is.

"You're like, 'Why did this have to happen?' "

Most of the team gathered for a golf outing on June 13, 1997, still celebrating the Stanley Cup championship it won six days earlier, which ended a 42-year title drought.

"Guys were hanging out, we were being responsible, had vehicles to drive us from the golf course," Kirk Maltby, a forward on the team, said. "We were 5-10 minutes from getting into our vehicle when Stevie (captain Yzerman) got a phone call. He told us there was an accident, said it's not good."
In 1998 the Detroit Red Wings would dedicate their season to the injured members of their franchise by wearing a patch that said: "believe."  Slava Fetisov was able to continue his playing career and was a part of the 1998 Stanley Cup winning team.
One of my fondest memories as a Detroit Red Wing fan was Steve Yzerman skating the Stanley Cup over and setting it on the lap of Vladimir Konstantinov as he rested in his wheelchair.
Members of the team would assist him to raise Lord Stanley once again. Simply unbelievable.  Vladdie with a smile a mile long, gave everyone the security for that one moment, everything was going to be ok.
Vladimir Konstantinov was robbed of a long career, and a normal life, that in no way means it wasn't essential and or successful.
The thought since, has often been suggested as  "what could have been?" We will never know the answer to that. We do know Vladimir Konstantinov was just reaching the prime of his career when tragedy struck.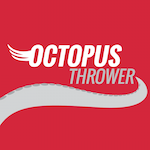 Want your voice heard? Join the Octopus Thrower team!
No player has ever worn the number 16 since, even the great Hall of Famer, Brett Hull even opted for number 17 in his Detroit Red Wing days.  I don't believe Detroit will ever officially retire the number, but it won't surprise me if no one ever wears a winged wheel "16" sweater ever again.  We missed his wrecking ball style of play on the ice, but it's always special to see the smiling face of Vladimir Konstantinov around the rink in Detroit where he still often frequents.
https://octopusthrower.com/2018/08/10/detroit-red-wings-flashback-friday/