Game Preview: Blue Jackets' Top Line (Including Artemi Panarin) Makes Preseason Debut at Nationwide Arena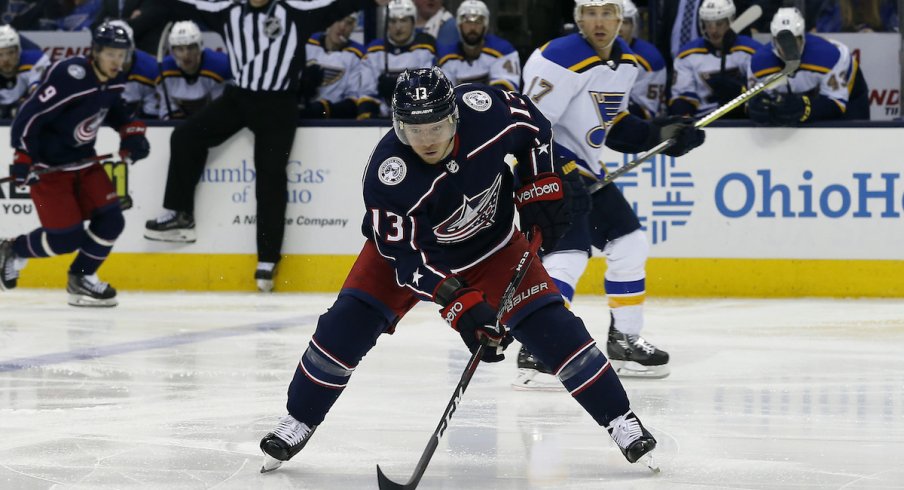 The Columbus Blue Jackets have turned the corner toward opening night and, today at Nationwide Arena, will play their fifth of eight preseason games (and third in three days). They'll ice a strong lineup this afternoon, including the exhibition debut of their No. 1 line: Cam Atkinson, Artemi Panarin and Pierre-Luc Dubois.
Sergei Bobrovsky will also make his second start of the preseason and second in three games – both coming against the Blues. He stopped 14-of-16 before departing midway through Friday's game in St. Louis.
If anything, we'll get a good look at some key players in this one.
Before the 3 p.m. puck drop in Columbus, here's what you need to do in the second meeting between the Blue Jackets and Blues in the last three days:
---
MATCHUP:

Columbus Blue Jackets vs. St. Louis Blues
Nationwide Arena, 3:00 p.m.
Watch: FOX Sports Go / BlueJackets.com
PREVIOUS SEASON RESULTS:

Columbus:
45-30-7 (97 points), Finished 4th in NHL Metropolitan Division 
Goals For: 242 (16th), Goals Against: 230 (10th) 
St. Louis:
44-32-6 (94 points), Finished 5th in NHL Central Division
Goals For: 223 (24th of 31), Goals Against: 222 (6th of 31) 
LINEUPS FOR TONIGHT: 

Columbus:
Here's how #CBJ will line up Sunday at home vs #stlblues

Here in Pittsburgh, no changes to the lineup I tweeted out a couple times already. pic.twitter.com/8jH755xzM6

— Brian Hedger (@JacketsInsider) September 22, 2018
St. Louis:
TBD
WHO TO WATCH FOR:

Columbus:
Artemi Panarin, Forward
This is an obvious choice, for many reasons, but all of them valid.
Panarin has been limited in training camp due to a strained neck, but he's been deemed ready to play and will give it a go today. It's his first preseason game and he likely won't need much time to get up to speed, and perhaps playing with his normal line mates will expedite that process. 
St. Louis:
Not sure yet. Hang with us.
Follow 1st Ohio BatteryFacebook, Twitter, Instagram and YouTube
https://www.1stohiobattery.com/columbus-blue-jackets-news/2018/09/2600/game-preview-blue-jackets-top-line-including-artemi-panarin-makes-preseason-debut-at-nationwide-arena