Minnesota Wild: 2018-19 Season Preview of Charlie Coyle
Minnesota Wild: How To Handle The Log-Jam On Defense by Ryan Darnley
We've reached the end of our 2018-19 Minnesota Wild Player Previews, and Charlie Coyle is the last to be previewed. Preseason starts in 3 days, and Training camp starts today!
The Minnesota Wild and Charlie Coyle have had a tenuous relationship over the last year, but he is still on the team and looks to bounce back from a shaky 2017-18. He has been the subject of many trade rumours, even by our own site, and yet Wild management appear to remain loyal to the former first round pick.
History
Charlie Coyle has taken an uncommon route to his place in the NHL, and yet has found success at every level he has competed in. Starting in the high school hockey system in Massachusetts and working his way from Tier 3 Juniors through the NCAA, CHL, and even AHL on his way to a consistent spot in the NHL.
I'll pick up at the 2010 NHL Entry Draft, where Coyle was drafted by the San Jose Sharks in the first round at 28th Overall. He was seen as a high-end developmental prospect, who needed time in higher level competition leagues to truly develop to his NHL Potential.
Coyle had just come off a 63 point season in the EJHL through 42 games, playing with a relatively low level of competition. He was committed to Boston University as a freshman and San Jose were happy to allow him to pursue his college career.
Minnesota Wild
Gone Puck Wild
0d –

Minnesota Wild: Could the Wild Afford Artemi Panarin?
Coyle finished his freshman year with 26 points through 37 games at Boston. That summer, he found himself the key prospect in the biggest trade of the summer. Coyle was traded to the Minnesota Wild along with Devin Setoguchi and a draft pick in exchange for Brent Burns.
He did not make an immediate arrival, though, as he went back to Boston University for his sophomore year. After 16 games Coyle decided to abandon college hockey and move north to pursue Major Juniors in Canada.
Charlie would finish the year on the Saint John Sea Dogs in the QMJHL, playing alongside the player picked with the draft pick received by Minnesota in the trade (Zack Phillips). That team also included future NHLers Jonathan Huberdeau and Nathan Beaulieu, and would win the QMJHL league that year, en route to losing in the Semifinals of the Memorial Cup Tournament.
In 2012-13, Coyle would make the jump to the pros and start the league in the AHL due to the NHL Lockout. When the NHL was prepared to begin in January 2013, Coyle would get an early call-up and spend the remainder of the season in the NHL.
Since then, he has been a reliable part of the Minnesota Wild roster. His second year got off to a slow start, with a sprained knee costing him 12 games, but after recovering from that injury he went on a 316 game iron man streak before breaking his leg in the third game last season.
During that Iron man streak, Coyle recorded 165 points (62G, 103A) and a +22 rating, averaging over 16 minutes on ice per game. He has spent time on lines with Zach Parise and Mikko Koivu, and transitioned from center to winger. In 2016-17 he topped out with 56 points (18G, 38A), and his follow-up year was disrupted by the broken leg and then wrist injuries that required offseason surgery.
Season Outlook
I give Charlie Coyle a ton of credit for being able to tune out all of the rumours and show up to the ice ready to work. It's a common occurrence in the NHL to hear your name thrown in rumours, but it still deserves credit to the players for handling it with class.
With that, I expect a return to pre-injury form for Coyle this year. He seems to have a pretty solid place on the third line of the depth chart behind the big 6 right now. With the influx of talented players this season, I think this should be a huge benefit for Coyle not playing against top D pairings or top shutdown lines.
I've addressed this in my Jordan Greenway preview, but I feel like Charlie Coyle should find himself alongside Greenway for the majority of this season. The 2 power forward types seem like a natural fit to play on an offensive minded 3 scoring line with a center that can enable their individual skill sets.
Coyle gets a hard rep from many fans for his lack of physicality, that he doesn't take the body enough, he doesn't finish his checks, or is just an overall softy when going into the boards. I can't dispute that part of his game, but he uses his big body to hold his ground from opposing players.
Where the confusion on Coyle comes in, I think, is that he doesn't throw hits. That's not his game, though. Coyle takes the hits, and holds his ground. He can maintain puck control and bounce off hits to work to the net in ways that smaller players tend to struggle with. Watching this highlight package, it's clear to see where his strengths lie.
It's possible this could be the last season we get to see Charlie Coyle at a Minnesota Wild Training Camp, or in a Minnesota Wild jersey, but if it is I think it will be a loss for the team overall. Coyle will find success wherever he goes.
Should Coyle play the season out, I truly expect a big season from the big power forward. Playing against bottom depth defensemen and bottom 6 forwards for a large part of the season along a line of tough checking, offensive players, they should be an extremely underrated scoring weapon.
Another 40-50 point season bordering on 20 goals should be well within the realm of possibility as Coyle should help young players like Greenway, Joel Eriksson Ek, and/or Luke Kunin adapt to the NHL game.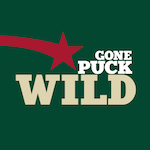 Want your voice heard? Join the Gone Puck Wild team!
He is a player that can step into a Top 6 role easily if injury strikes, he can play both wing and center, though he appears to excel at wing, and is someone you'll struggle to replace if he's gone. Hopefully Paul Fenton can see that, and doesn't let a player of this calibre go for dirt cheap. If Coyle gets traded, he should command a high value in return.
https://gonepuckwild.com/2018/09/14/minnesota-wild-2018-charlie-coyle/