The day for the Montreal Canadiens to celebrate a game at home with their fans is here, and it'll be a special one for Jesperi Kotkaniemi.
It was five months of waiting for the Montreal Canadiens to begin training camp after their final regular season game. Tests and evaluations took another four weeks, but the roster was set and the team got playing. Unfortunately, fans would need to wait another four days even though the Habs have only seen two games under their belt. But the waiting is over.
The Bell Centre is going to be rocking tonight as the Habs will have the Los Angeles Kings to take on. It'll be another milestone in the jar for top prospect Jesperi Kotkaniemi.
He was taken third overall at the NHL Draft in June, played well for his nation overseas, and won a job in the NHL forcing the hand of the Habs coaching staff. It's still early on, but it doesn't look like Kotkaniemi has any intention of letting go of his spot. If his internal drive isn't enough, some good ol' family support will do the trick.
The Habs included in one of their daily posts a few days ago that Kotkaniemi's mother Kati will be in attendance for the home opener. When asked about it, the 18-year-old said:
I think that will be great. It's going to be fun to finally get my mom here. She will help me a lot every day. This has been my dream and she's always wanted to see me do well. It's nice to finally have her here.
Perhaps a taste from home helps Kotkaniemi continue down the path he's paved for himself so far. He's generated a lot of chances with his linemates in Jonathan Drouin and Joel Armia, but used his on-ice awareness to have some individual scoring chances of his own.
Habs fans have already seen a bit of what the young centre can do, but it'll be different this time. The Montreal Canadiens do home openers like no other. The emotions will be running wild for the entire team including Kotkaniemi. They've managed to catch other teams off-guard with their speedy play in all three zones and along the boards.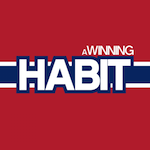 Want your voice heard? Join the A Winning Habit team!
Kotkaniemi has been a part of that and doing nothing else will further establish himself as an NHL player for the Montreal Canadiens.