Montreal Canadiens: Bringing in Jack Johnson crowds things on all fronts
Montreal Canadiens move on from more of their amateur scouts by Omar White
Montreal Canadiens: Nic Petan may be a player worth pursuing by Omar White
There's a potential number associated with Jack Johnson now which is a cause for concern for the Montreal Canadiens if they choose to sign him.
Jack Johnson signing with the Montreal Canadiens is still in the  'speculation' category. Elliotte Friedman brought the possibility to light, and Bob McKenzie spread it out a little. He didn't say for a fact that the Habs are indeed interested, and neither did Friedman, but that the Habs are looking to add to their blueline.
We've already looked at the fit for Johnson on this team in a previous post. To make a long story short, it wouldn't be worth it. Montreal has young pieces on defence looking to improve. However, if free agency is still a target for Marc Bergevin, signing a Calvin de Haan makes a lot more sense.
The evidence is there as to why bringing in the 31-year-old would be a mistake. If his on-ice play isn't enough, perhaps the kind of money Johnson will command on the open market is. McKenzie also shared on his hit on Sportsnet 590 that he expects Johnson to get somewhere around $6 million per season.
That would place him in the same realm financially as players like Erik Karlsson ($7 million), Eric Johnson ($6 million), and Seth Jones ($5.4 million) to name a few. Additionally, it wouldn't be surprising to see him want some a clause of some sorts on the contract. Job security becomes a pretty important thing once a player gets into the back half of their careers.
Fantasy Land
Say the Montreal Canadiens do it. On July 1st, 2018 at 12:00 PM ET it's announced that Johnson and the Habs have agreed to a five year $30 million contract. Firstly, you have to wrap your head around the fact that the team would have a little over $24 million invested in four defencemen.
Training camp would probably see Claude Julien try Johnson next to Shea Weber. Karl Alzner with Noah Juulsen and Jeff Petry with Victor Mete are probably the next likely pairings. But if similar to the Alzner-Weber experiment, it doesn't work, then what do you do?
Keep in mind Johnson saw his playing time cut this past season as he fell out of favour with head coach John Tortorella. That included spending a lot of games on the bottom pair. If he meets the same fate with the Montreal Canadiens, then the blueline could end up in even worse shape regardless of the growth of Mete and Juulsen.
Having someone potentially make that much but play so low is a massive thumbs down. But then you look down the line. What if Brett Lernout proves he's done with the AHL and needs an opportunity to break out? The same goes for Michal Moravcik and David Sklenicka. We can't assume that they'll step onto the Habs or Laval Rocket and make an instant impact.
But if they improve over the course of the season, there wouldn't be any room to try them out that year or the next. Mike Reilly would be put placed in a tough spot too. He played well for the Habs after being acquired from Minnesota but would be relegated to the minors or the press box.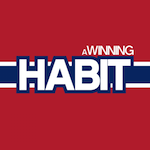 Want your voice heard? Join the A Winning Habit team!
Optimism in the Right Thing
As much as the Montreal Canadiens want to improve their blueline, they have to consider the long-term effects. Bergevin wouldn't be doing his job as a general manager if he didn't inquire on the status of some those pending free agents. However, Johnson isn't the answer.
The team has cap space now, but a possible contract of that magnitude will complicate things in the future.
Acknowledgements: Salary information from Capfriendly.com
https://awinninghabit.com/2018/06/13/montreal-canadiens-signing-jack-johnson-crowds-defence-areas/