Montreal Canadiens: Continuing the search for consistency
Montreal Canadiens: A big day for the future of the team by Omar White
The Montreal Canadiens have another chance to play spoiler against a Florida Panthers team well in need of a win as they fight for a playoff spot.
Tuesday's game was the comeback that never was as the Montreal Canadiens found themselves down 4-0 early against the New Jersey Devils. The team made it interesting with goals from Brendan Gallagher, Jacob de La Rose, and Byron Froese, but it wasn't enough. The final score was 6-4, and the Habs locked up another loss in the dark cloud that we like to call the 2017/18 regular season.
Fortunately, it's a not a complete mail-in season for the other members of the team. A lot of these players still have something to play for which has still made the Habs an interesting group to watch. Noah Juulsen is still looking to improve to ensure that he was a name in that locker room ready for next season.
Gallagher is six goals away from his first career 30-goal season, Rinat Valiev is trying to make the most out of his opportunity with the Habs while Mike Reilly has gone from the fifth defenceman on the Minnesota Wild to a top pairing guy with Jeff Petry.
It doesn't stop there, the likes of de La Rose, Alex Galchenyuk, Jonathan Drouin and Nikita Scherbak are still proving they can be impact players every night. The spotlight is more on de La Rose after his two-goal performance against the Devils. His overall play has taken a step in the right direction ever since the hole at third line centre needed a new body, but the 22-year-old go rewarded for it offensively.
Everyone on the Habs will have to be ready as they'll have a very hungry team coming at them. The Florida Panthers are just outside of the final wild-card spot in the Eastern Conference with 71 points. Although they have three games in hand over the Columbus Blue Jackets, they can still make some ground by getting two points. Additionally, you can argue that the Habs are a team they feel they should beat.
Florida remains one of the hottest teams in the NHL going 7-2-1 in their last ten. Aleksander Barkov has been having a Hart-worthy season leading the Panthers with 25 goals and 41 points. However, others such as Vincent Trochek, Jonathan Huberdeau, and Evgeni Dadonov are pulling their weight as well each scoring 20 goals.
The most impactful part of the team has to be Roberto Luongo who at 38-years-old is still pulling his weight as the Panthers' starting goaltender. Luongo ran into some injury trouble earlier leaving James Reimer to hold down the fort, but has been a force for Florida since returning. The veteran goaltender is projected to get the start and with a .927 save percentage, getting pucks past him will not be an easy task.
As far as the Habs lineup goes, the lines and pairings will most likely be similar to the ones used on Tuesday. Both Gallagher and Paul Byron were given therapy days yesterday, but there haven't been any signs of either sitting out for this game.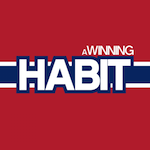 Want your voice heard? Join the A Winning Habit team!
What are your predictions for the game? Can de La Rose have a similar impact as he did against the Devils? Will Gallagher take another step closer to 30 goals? Let us know in the comments below.
https://awinninghabit.com/2018/03/08/montreal-canadiens-news-continuing-search-consistency-florida-panthers/