Montreal Canadiens 2017 second-round pick Joni Ikonen underwent surgery for a right knee injury and will require six months to recover from it.
Joni Ikonen is the latest member of the Montreal Canadiens organization to require offseason surgery. The team's NHL site announced the young forward's procedure occurred on Monday and took place in Finland. Ikonen sustained the injury at the end of May during team practice.
It's unfortunate for the 18-year-old who was expected to take part in the Liiga Cup.
Ikonen finished his first professional season with KalPa scoring 4 goals and 10 assists in 52 games. There was a large chunk of frustration throughout his year, but he looked to get accustomed to the increased pace of play as the season went on. The Habs also confirmed that Ikonen will be in Montreal at the end of June to continue his rehabilitation for the surgery.
This now makes five players within the organization who required surgery. Shea Weber's foot injury was an ongoing storyline throughout the year before he was eventually shut down by the team. Andrew Shaw saw a knee injury aggravate itself that had him sent home and receive surgery as well.
The news on Paul Byron came as a shock as there wasn't any word of it. Byron took time off from practice at some moments in the latter half of the year, but surgery didn't seem like a likely outcome.
Jake Evans was the final player who needed repairs. The Montreal Canadiens signed him to his two-year entry-level contract after his final year in the NCAA came to an end. The Laval Rocket had two more games left to their inaugural season providing a platform for Evans to make a debut in the pros. However, he was sent home instead.
We later found out that Evans had surgery to repair a sports hernia.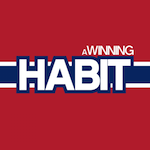 Want your voice heard? Join the A Winning Habit team!
If all goes well with Ikonen, he should be good to go by December. It will cut into his expected second season in Liiga, but health is the most important thing. It's also a positive sign that the Montreal Canadiens are getting in front of it and providing him with all the help he needs to recover.