The Montreal Canadiens have already started to deal with their contract situations for next summer signing Paul Byo to a four-year extension.
It was meant to be a day off for the Montreal Canadiens, but Marc Bergevin was at work solving the cap situation for the near future. One of those obstacles would've been 29-year-old Paul Byon who was entering the final year of his contract with the Habs.
There was speculation as to whether Bergevin would try to flip him at the deadline for assets depending on how the team was performing. But those thoughts and discussions have been put to rest after the team announced (via their Twitter account) a four-year extension for Byron. Looks like scoring in Saturday night's 3-2 victory over the Ottawa Senators did more good than we all thought.
All joking aside, the extension will see Byron make $3.4 million per season up from the $1.16 million in his previous deal (a $2.23 million increase). The deal will take the speedy winger until his 34th birthday where he could become an unrestricted free agent.
There's so much to like about this deal. Byron will be the fifth-highest paid forward on the team underneath Brendan Gallagher who makes $3.75 million (while scoring 31 goals last season). Again, what usually hurts teams as far as contracts go is the term, and four years is a very nice number for the organization to work with.
Another thing to appreciate is the 'he could've got more' angle. Byron has scored 20 goals in back-to-back seasons for the Montreal Canadiens, and it wouldn't be surprising to see him do it again this year under the right circumstances. Additionally, considering the Tom Wilson contract with the Washington Capitals, a fair argument could've been made for why Byron should've had more money added to that AAV.
However, it seems him get a boost in salary and keeps the Habs at bay now and in the future.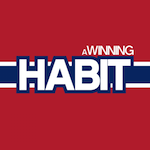 Want your voice heard? Join the A Winning Habit team!
With the contract out of the way, Byron is free of all off-ice distractions and can go out and play. Bergevin gets another thumbs up for a good contract signing, and it'll be interesting to see how the others go.