New York Rangers: Storming back against Carolina – FanSided
The New York Rangers return home to face off against the Carolina Hurricanes. They look to extend their home winning streak against Carolina to 16 games.
The New York Rangers return home to put their 7-5 loss against Columbus behind them as they take on the Carolina Hurricanes.
The last time these two teams faced off was all the way back in October in Raleigh. It was a wild 8-5 loss, and Hurricanes rookie Andrei Svechnikov scored his first NHL goal. For the Rangers Jimmy Vesey and Chris Kreider each had a pair.
But tonight the two teams are facing off at Madison Square Garden, a venue where the Rangers have had a strong advantage over Carolina. The Hurricanes have lost their last 15 appearances at MSG dating back to 2010.
The Rangers have lost six out of their last seven games. In that stretch, they've been outscored 34-15 by their opponents.
The Hurricanes, on the other hand, have been on a roll. They've won seven of their last eight games, including a decisive 6-3 win over Nashville on Sunday. This puts them back in the hunt for a wild card spot, five points behind the Islanders.
This match-up will be an interesting one to watch to say the least.
The Hurricanes at times look like a playoff contender and a team on the rise, but at other times their weaknesses become their kryptonite and they crash in the standings. The Rangers put together a strong stretch earlier in the season, but are beginning to look more like the team we all expected from the start.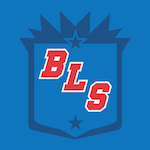 Want your voice heard? Join the Blue Line Station team!
If Carolina is going to break its MSG losing streak, tonight is the opportunity. The Rangers will have the tough task of stopping a young, surging team with a stacked defense.
The one silver lining for the Rangers is that they have the upper hand in goaltending. Goaltending has been Carolina's biggest, most glaring weakness. A major factor in their league-leading playoff drought is their instability in net.
The Rangers, on the other hand, have a weak defense but strong goaltending. This could be the factor that determines who will emerge victorious tonight.