NHL Rumor Roundup: Blues, Senators look like a trade match one way or another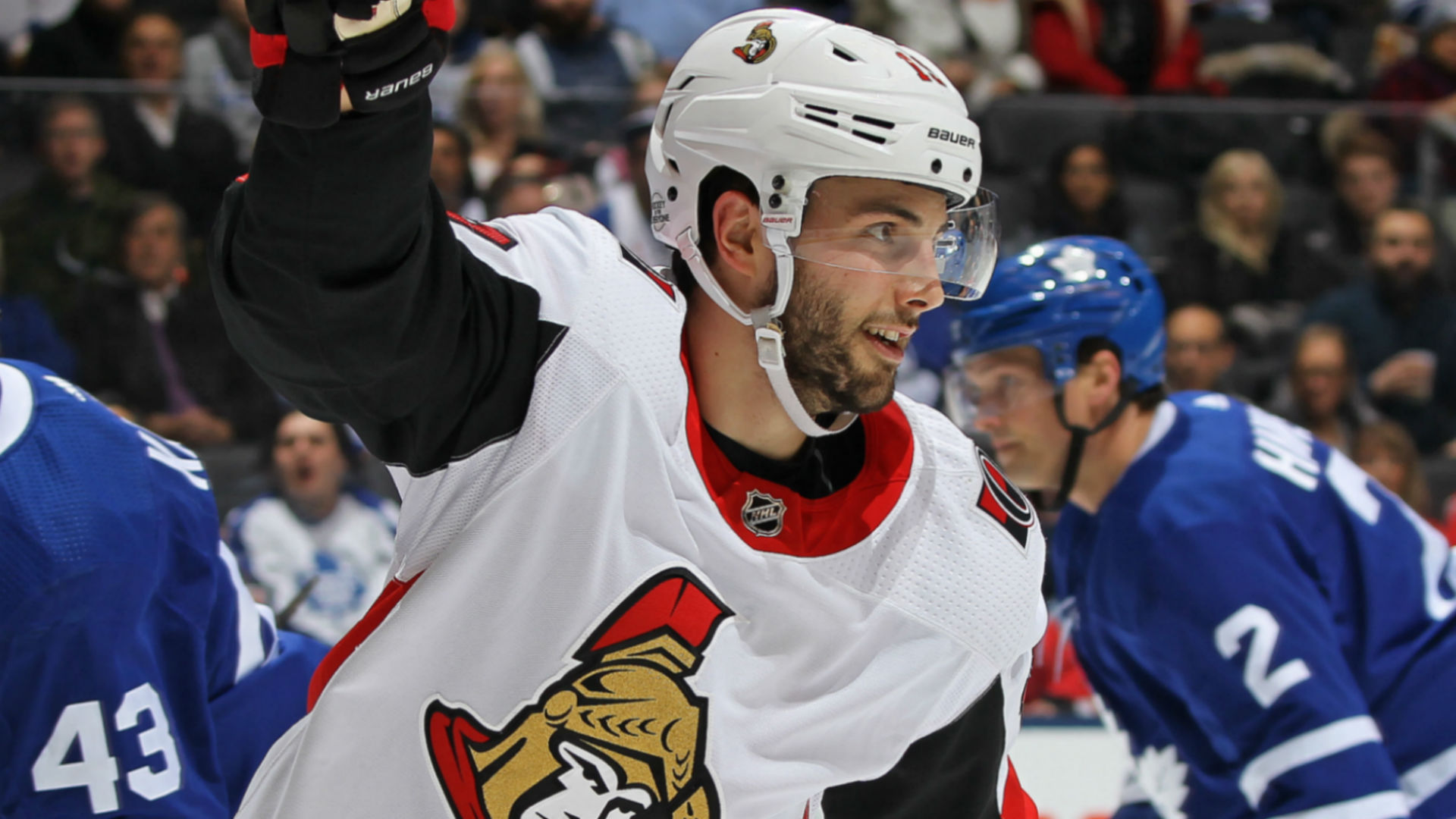 It's NHL trade rumor season. Each week before the Feb. 26 trade deadline, Lyle Richardson's Rumor Roundup column serves as a one-stop guide to the latest rumblings around the league. 
For several weeks, the Blues were rumored seeking a top-six winger. Meanwhile, the Senators are considered sellers heading toward the trade deadline. It therefore shouldn't come as a surprise that the two clubs could be working on a deal.
On Saturday, NHL.com's Lou Korac reported a source said the the Blues and Senators had engaged in strong trade dialogue regarding Ottawa forwards Mike Hoffman and Derick Brassard. If a deal is completed, it would involve one or the other, with the Blues potentially sending a package of forwards Robby Fabbri, Patrik Berglund and Vladimir Sobotka to the Senators. 
Blues general manager Doug Armstrong has repeatedly stated he's not interested in parting with assets for a playoff rental player.  His preference is a straightforward hockey trade for an established player under contract beyond this season. 
TRADE TRACKER: Rumors, reported deals before the 2018 deadline
It remains to be seen if Hoffman or Brassard end up in St. Louis. Either forward could suit the Blues' need for secondary forward depth at the trade deadline. 
Hoffman is a streaky scorer, but the 28-year-old winger's on pace to reach 20 goals and 45 points for a fourth consecutive season. Hoffman is signed through 2019-20 with a $5.187 million annual salary-cap hit. He also carries a modified no-trade clause, but perhaps he'll waive it to join the Blues. 
The Senators, however, could be reluctant to part with Hoffman. TSN's Frank Seravalli notes the winger has established good chemistry with center Matt Duchene. 
MORE: Are we in for a boring trade deadline stalemate?
Brassard could be a potential replacement for Blues center Paul Stastny if the latter opts for free agency this summer. The 30-year-old center has a year remaining on his contract with an annual average value of $5 million. Like Hoffman, he also has a modified no-trade clause. 
For some time, reports out of Ottawa claimed the Senators wanted to retool with younger, cheaper talent. Fabbri, 22, falls into that category. Though sidelined with a season-ending knee injury, he has potential as a top-six scoring forward. 
Sobotka (30) and Berglund (29) carry affordable annual cap hits under $3.9 million each. However, they certainly aren't the type of younger players the Sens supposedly seek. 
RUMOR ROUNDUP: Senators set the market with more trades possible
Bruins pondering moves?
Entering this season, the Bruins were expected to be marginal playoff contenders. Stocked with older veterans and inexperienced youth, they were still thought of as a team in transition. However, they've exceeded expectations, challenging the Lightning for top spot in the Eastern Conference, and are considered a legitimate Stanley Cup contender. 
That's generated some speculation over what moves GM Don Sweeney might have in store for his surprising roster. While the Bruins don't have a lot of weaknesses, some observers feel they could use a veteran left winger and perhaps another experienced defenseman. 
Recent rumors linked the Bruins to Rangers blueliner Ryan McDonagh. On Friday, the Edmonton Journal's Jim Matheson claimed the Rangers seek young winger Jake DeBrusk included in any deal for McDonagh. Meanwhile, the Boston Globe's Kevin Paul Dupont heard trade chatter suggesting Oilers left wing Patrick Maroon or Canucks forward Thomas Vanek could end up in Boston by the trade deadline. 
RUMOR ROUNDUP: Rangers targets take over the rumor mill
Sweeney could've looked into McDonagh's availability, but he's under no pressure to acquire the Rangers captain. Having spent the past three years restocking the Bruins' prospect cupboard, he could be hesitant about parting with a promising youngster. 
Maroon or Vanek could be more affordable. However, Sweeney could pass if the asking price for either guy is a high draft pick or top prospect. With his club riding high in the conference standings, the Bruins GM can afford to stand pat at the trade deadline.
(Editor's note: The Bruins on Tuesday acquired defenseman Nick Holden from the Rangers for a 2018 third-round draft pick and prospect Rob O'Gara.)
MORE: Rasmus Dahlin changes talk about top-drafted defensemen
Updates on the Canucks' plans
With the Canucks' playoff chances all but dashed, they could become sellers at the trade deadline. While pending free agents Thomas Vanek and Erik Gudbranson have dominated the rumor mill, blueliner Chris Tanev has also surfaced as a possible trade candidate.
Tanev, 28, is a good all-around rearguard whose skills could make him a worthwhile addition to a playoff contender. Though currently sidelined by a leg injury he's expected to return to action in the near future. He's signed through 2019-20 with an affordable annual cap hit of $4.45 million and carries an eight-team no-trade list.
On Saturday, Sportsnet's Elliotte Friedman reported there were several teams believed to have inquired about Tanev's availability. However, Canucks GM Jim Benning told the Vancouver Sun's Ben Kuzma he doesn't intend to move the veteran defenseman.
(Editor's note: Erik Gudbranson on Tuesday signed a three-year, $12 million extension to remain with the Canucks.)
http://www.sportingnews.com/ca/nhl/news/nhl-trade-rumors-2018-deadline-blues-senators-mike-hoffman-derick-brassard-bruins-canucks/1erhivtf5xowl14pbdx7p70i42