Off-Season Watch: Subban trade not in play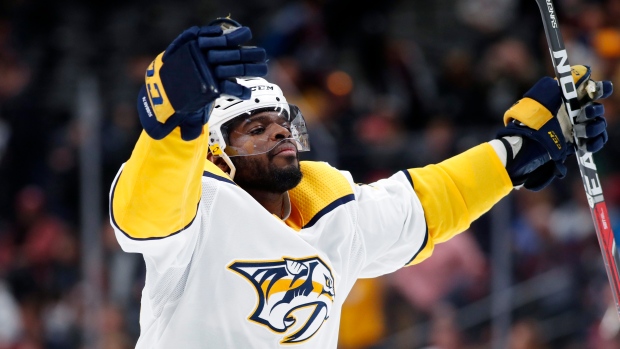 Each day through the NHL Draft on June 22 and up until free agency on July 1, TSN.ca breaks down the latest news and rumours around the NHL.
 
Subban was never on the table
Nashville Predators GM David Poile told TSN Hockey Insider Pierre LeBrun in The Athletic that a trade for defenceman P.K. Subban will not be happening.
Poile explained that no one has called him offering a deal and that he has no idea where the rumours of Subban's availability originated from and does not expect a lot of changes with the Predators personnel.
LeBrun added that the rumours could have started from the fact that the Predators inquired about Ottawa Senators defenceman Erik Karlsson before the deadline.
Poile also said that the team has spoken to defenceman Ryan Ellis' agent and that they are working on a big, important contract.  Ellis is eligible to sign an extension as of July 1.
 
Holden or Foldin'
Writing for NBC Sports Boston, Joe Haggerty took a look at the possibility of the Boston Bruins bringing free agent defenceman Nick Holden back in the off-season.
The 31-year-old played 18 games for the Bruins last season, after being acquired from the New York Rangers at the trade deadline.
Haggerty notes that Bruins general manager Don Sweeney hasn't closed the door on any of his pending free agents and adds that while the Bruins crowded defensive core includes Zdeno Chara,
Charlie McAvoy, Torey Krug, Matt Grzelcyk, Kevan Miller and Adam McQuaid, Holden might only fit if he's willing to return for well under market value.
Holden scored a goal and added four assists in his 18 games with the Bruins last season and tallied one assist in two playoff games.
 
Keeping Yzerman
Tampa Bay Lightning owner Jeff Vinik wants to keep general manager Steve Yzerman in the fold and told Joe Smith of The Athletic that he's optimistic they'll sign him to an extension as early as this summer.
Yzerman, 53, is heading into the last year of his deal with the Lightning and has been running the team for eight years.
"Working for Jeff has been fantastic," Yzerman told The Athletic. "It's a tremendous position and I'm grateful to have it."
Yzerman has overseen an extensive period of success with the Lightning, as the team has played in four conference finals in the eight years he's been in the GM position.
They have played for the Stanley Cup once during Yzerman's tenure in Tampa Bay, during the 2014-15 season when they lost in six games to the Chicago Blackhawks.
http://www.tsn.ca/off-season-watch-subban-trade-not-in-play-1.1111561