The Detroit Red Wings are Set to Host the Toronto Maple Leafs
Detroit Red Wings Need to Focus on the Players not Wins and Losses by Brian Wallace
The Detroit Red Wings have returned to Motown and are set to take on the white-hot Toronto Maple Leafs.  It will undoubtedly be a David vs. Goliath type match-up tonight.
The Detroit Red Wings are still in searching for win number one as they are preparing to host the Toronto Maple Leafs tonight.  The Leafs are coming off of back to back 7 goal performances. They beat the Chicago Blackhawks 7-6, and the Dallas Stars 7-4.  Let's hope they don't put up such a crooked number tonight.
John Tavares and Auston Matthews both lead the Leafs into battle.  It seems the pair each score multiple goals every night.  It is simply unrealistic and crazy to think the pair can keep up this jaw-dropping scoring pace. Or could they? They both look like they have an opportunity to score 50 goals this season.
Tavares through the first four games of the season is averaging 19:25 minutes per game.  He has recorded 6 goals in 4 games and is a plus 3.  He is settling in perfectly on the top line with the Leafs and as Mike Babcock's "bell cow."  Johnny T is perfect for Mike Babcock, Babs loves the reliable two-way center.  Babs still coaches that familiar style of being rock solid down the middle of your lineup and "buying into" the defensive zone responsibility, and the offense will follow.  J.T fills all of these boxes for Mike Babcock.
More from Octopus Thrower
Matthews is a freakish talent in his own right.  He has demonstrated the ability to score with ease from all over the offensive zone.  Whenever the puck is on his stick, it has a chance to end up in the back of the net.  The 21-year-old glides around showing little emotion at times; he is an even kilter kid that conducts himself in a much more mature manner than his age would suggest.
He has started the new season on absolute fire.  Matthews is coming off of back to back seasons where he recorded 40 and 33 goals respectfully.  The way he has started the season off AM has the 50 goal marker within his sights.  His season has started with 7 goals and 10 points in the first four games.
The odd man out is Nazim Kadri who has scored 30 goals in back to back seasons, playing center on the Leafs third line.  Can you imagine?  The Detroit Red Wings have not had a 30 goal scorer since 2009, and the Leafs are skating one on their third line.  Our third line center will finish around 30 points, let that set in for a minute.
Kadri continues to embrace the role and had this to say to Chris Johnston of sportsnet.ca:
"You've got to understand that I've got to start every shift in my D-zone so it's tough for me to create offence all the time," said Kadri. "That's my role, that's the impact I have on this team. You know, I'm just trying to bring both components – the physicality, the grit, along with the scoring and the skill.

"I'm always trying to find a balance with that."

Kadri on the  Tavares signing;

"I was pretty surprised, myself, and obviously over the moon when I heard," said Kadri. "I was very excited because that puts us in contention, I think."
The Detroit Red Wings may find themselves on the ropes tonight.  Dennis Cholowski and Danny DeKeyser will see a heavy dose of either JT or AM.  Jimmy Howard played exceptionally well in Anaheim and will need to find a way to best that showing if the Detroit Red Wings have any chance of pulling off a win tonight.
The Leafs offense is still missing William Nylander who currently remains an RFA.  Nylander is looking to cash in now rather than signing a bridge deal similar to the one Anthony Mantha signed with the Detroit Red Wings.  Nylander is coming off of consecutive 61 point seasons.
Andreas Athanasiou will have to use his speed to allow himself to continually create offensive opportunities and get on his horse and backcheck against these terrific Leafs forwards.  The Wings need to forecheck aggressively against the Leafs defenders.  Morgan Reilly and Jake Gardiner are both outstanding defenders.  After those two the Leafs back-end talent drops off.
If Frans Nielsen can handle his matchup tonight and Dylan Larkin hold his own, the Wings might be able to pull off the upset.  I would expect Nielsen to play against either Tavares or Matthews and Larkin the other.
Watch the coaching cat and mouse matchups all night.  Babcock will try to have Kadri against the Wings top line, Blashill will likely prefer AA's unit against Kadri.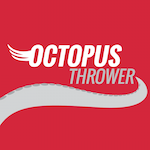 Want your voice heard? Join the Octopus Thrower team!
Game Information:
Detroit Red Wings 0-1-2 vs. Toronto Maple Leafs 3-1-0
Time: 7:30 p.m EST
Location: Little Ceasers Arena
TV: Fox Sports Detroit, TSN 4, Fox Sports Go, NHL.TV
Radio: 97.1 The Ticket
https://octopusthrower.com/2018/10/11/detroit-red-wings-set-host-maple-leafs/